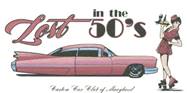 We're open to anyone with a vehicle 30 years or older. Cars range from fully restored show quality antiques and custom built street rods, to "works in progress".
Family memberships cost
$20

per year.
Click here for MEMBERSHIP APPLICATION
If you are interested in joining our Club, please contact us!