God saw you getting tired and a cure was
not to be, so He put his arms around you
and whispered, "Come to Me". With tearful
eyes we watched you, and saw you pass away.
Although we loved you dearly, we could not
make you stay. A golden heart stopped beating,
hard working hands at rest. God broke our
hearts to prove to us, He only takes the best.

Dennis Smith 4/13/1951- 1/24/2015
---
In the 80's we joined the Lost In The 50's and did not get involved until the 90's.
Sally's car was finished and she wanted to show it off. Sally got very involved with
the club, wanting to help make it good. Sally volunteered to be Secretary and was
in that position for a decade. She was proud of the club and did everything she could do
to keep the club a good place to be. Sally became President for two years. Some of
her many achievements were, Lady Rodder and Queen of Cruising,(OC). She was most proud
of friends made, and the joy of being part of the club.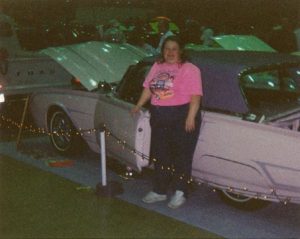 Sally Evans 9/27/1950- 5/5/2014